Peterson Photography is pleased to announce we now serve Florida from December through April, from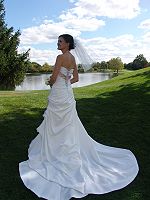 Clearwater to Vero Beach! Check out a Clearwater Beach wedding!

Peterson Photography specializes in wedding photojournalism, capturing those special unposed moments that occur before, during, and after the ceremony. I know that your wedding is a day of ceremony and celebration, not a photography session. I am extremely easy to work with, yet I will be sure to get the formal pictures and pictures of the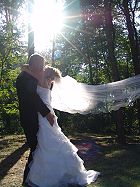 ceremony (during or posed) that you select ahead of time. Additionally, I will unobtrusively get the candid photos that show the true emotions, relationships, and stories taking place on your special day. Special effects such as sepia tone, black and white, or black and white / color hybrids are available. Click the "Wedding Gallery" link to see hundreds of our photos.
Peterson Photography's contract shares copyrights with you, the client. You may copy, edit, or print any or all of the images, as much
as you please. If you purchase any videography (produced on a DVD) from me, the same rights apply. Specifically, I will produce a DVD slide show of up to 300 of the bride's and groom's favorite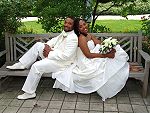 pictures. The CD's will also contain all of the hundreds of pictures I take that day, full size and highest resolution. All CD's and DVD's can be easily and legally copied for your friends and family! The DVD will display the slide show on your television with a standard DVD player, no computer necessary. I will help fill a conventional album as well by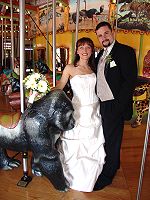 printing twenty 8X10's at no additional cost. Of course you can print any other pictures you want or have me print more for a very nominal fee. Send email inquiries to Stephen@SPetersonPhotography.com . Please indicate your wedding date and location along with any questions you may have.
Call me NOW at 419-378-5310!
Testimonial
"The wedding photographs that were taken of our daughter's wedding by Stephen Peterson were remarkable in several ways"...
read entire testimonial and others

SPeterson Photography - Quality Affordable Photography & Videography
Stephen@SPetersonPhotography.com
419-378-5310